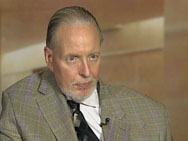 An article on UPI today caught my eye. Apparently one of the architects of the mobilization of the Religious Right has died. I can only assume that this came as a surprise to Paul Weyrich, and he's made clear through the years that he and others like him were somehow better human beings than those they disagreed with. One one think this purer, more moral form of humanity would be less prone to disease and old age. Somehow, it's comforting to know that they're just like the rest of us in the end.
WASHINGTON, Dec. 18 (UPI) — Paul M. Weyrich has died of unspecified causes at the age of 66, ending a life that included founding Washington's Heritage Foundation, an official says.
An unidentified foundation spokesman said Weyrich died Thursday in an undisclosed location following years of declining health that included a diabetes diagnosis and having both his legs amputated below the knee in 2005, The Washington Post said.
In addition to founding the Heritage Foundation, Weyrich founded the Free Congress Research and Education Foundation and served on the board of railway giant Amtrak.
Weyrich was also credited with coining the popular political phrase "moral majority" during a 1979 religious gathering.